Home » Fortune Cookies » Personalized/Custom Fortune Cookies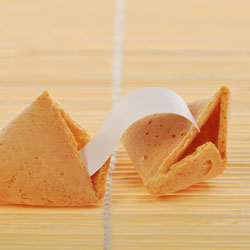 Personalized Fortune Cookies
Description
Custom fortune cookies are a yummy way to get YOUR message across. An added touch for special occasions and parties or as a promotional gift. Your custom fortune cookies are baked fresh to order and come individually packaged in clear cellophane.
Interested in further customizing your cookie's message with a photo or graphic? Contact us to learn more.
Please fill out all of the required fields below and one of our sales representatives will contact you shortly to go over your QUOTE with you.